Hello again 🙂
I've already started with yet another country, Malaysia, and I'm enjoying it a lot. But before I get into that, I should still talk about my last week in Thailand…
First moments at Koh Lanta
When I (somewhat hastily) left Phi Phi, I headed to another island, Koh Lanta. It's actually two islands, but vast majority of people comes on Koh Lanta Yai, which is were I was too.
Lanta is much larger than Phi Phi and the density of population, shops, restaurants and other establishments is much lower. After arriving to my hostel, which was literally less than 2 minutes away from the beach, I headed directly there and spent my first day sunbathing and swimming at what almost seemed like my private beach. Lanta has proper open areas for swimming (unlike a lot of other islands), which I made good use of.
Lanta's Angels
Because Lanta is so spread out, on my second day I've decided to rent a scooter and drive around a little. At breakfast, I found out that there's quite a large group of people at my hostel doing the same thing, so I decided to join them. We had a few new drivers (I myself only drove during 2 days in Bagan!), so we were pretty slow 😀 But it was a lot of fun and the people were absolutely lovely.
We drove to the national park at the south and walked through the small forest for about an hour. The main attraction of the park was definitely the beach, which was simply perfect…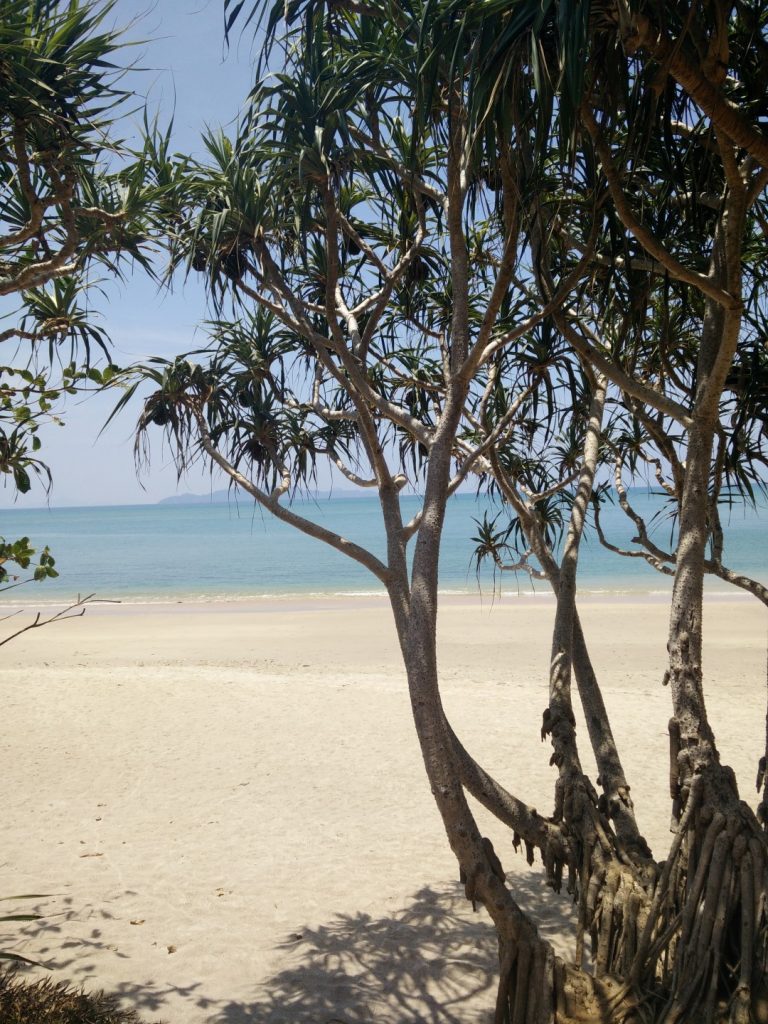 And I can't forget the monkeys! This was the first time I met monkeys that got somewhat threatening – the moment they saw me with an ice cream, they ganged up around me real fast. When one of the bigger males showed up, it didn't take much for me to change my mind about eating it at the beach. I walked back to the "restaurant" where I bought it rather quickly and sat there, protected by the staff, who were obviously used to it (and had weapons, such as slings, the sight of which was enough for the monkeys to run away). Seriously though, it can get kind of scary when you show them food. Lesson learned.
The third day was quite similar to the second one, however we were with a smaller group and most people shared a scooter, so this time it went much faster. I'm quite proud to say I was one of the few drivers and I kept up with the guys, I wasn't even the slowest one! 🙂
Finally, I spent my last day diving again (diving, not driving) and it was amazing! The biodiversity in these parts was much higher than around Koh Tao, which made for a whole new experience. The corals were so much more beautiful here and the variety and amount of fish was astounding. Unfortunately, I was a little unlucky and did not see any sharks. I saw a lobster and a large turtle though 🙂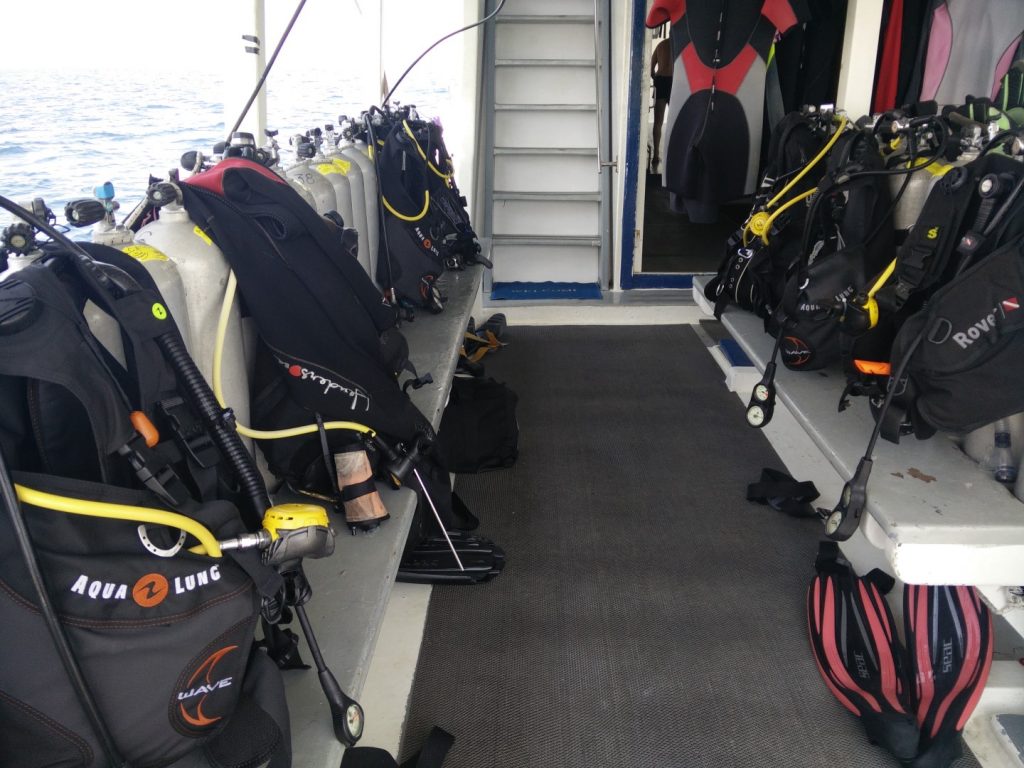 I'm very fond of the time I spent on Koh Lanta. The atmosphere there was exactly what I hoped for and I met some amazing people. I already miss driving the bikes around and finishing the days with drinking beer in the warm sea while watching the red skies at sunset. Guys, I hope your travels are going well! 🙂
Short stop at Koh Lipe
After Koh Lanta, I was planning to go directly to the Malaysian Langkawi. I was told that's not possible, and thus forced to stay one night at Koh Lipe. I wish I stayed at least two though…
Koh Lipe is another one of those picture perfect places. Every time I think I've seen it all, I arrive to a new, breathtaking place and I stand corrected. Since I came quite late and was leaving very early, I did not manage to spend nearly enough time here (or take any pictures that would do it justice, so feel free to search for it on your own 😛 ).
The mediocre Langkawi
After coming to Langkawi from Koh Lipe, you can't help yourself but feel slightly disappointed. Don't get me wrong, it's a fine island, it has some beaches, a lot of water/adrenaline sports, enough vegetation… it's just, there's nothing really spectacular.
I spent the first day just getting some information, buying a new SIM card and getting some food. The hostel owner, June, was very helpful with all this. He is one of the kindest people I've met so far.
I also met Iris, a girl planning to go for the same tour of the mangroves the next day as I was. We rented some scooters to drive around the island a little bit. We planned to visit the mountain Gunung Raya, but we started a little late and in the end arrived there in complete darkness. The road was treacherous and in a pretty bad shape, so we got significantly slower after dusk. As you can probably imagine, we were the only living souls around there, except for some monkeys and cows. The top of the mountain was a little creepy, there was only some closed resort that looked more like a mental asylum. However, the rest stop just before the top was charming. We had a view of the whole Langkawi, with all it's little lights below us, while above us was a clear, stary sky. I wish I had a real camera, because there is no way to capture this with a phone.
The next day, we visited the mangroves of Langkawi. It was actually very cool, we got onto a small boat and saw some interesting nature from it, including eagles, monkeys and a cave full of bats. We were quite lucky we booked the shorter version of the trip, because just as we were driving home, it started raining. In Malaysia when it rains it pours. The storm gave both of us a good excuse to crawl back into bed and take a nice nap 😛
Cute Georgetown
When I arrived to Georgetown after Langkawi, I thought it was going to be just as mediocre. I had a really nice hostel though, so I've decided I'm going to stay at least two nights, even if the town is nothing special. Being a backpacker, sometimes a good bed and a proper shower is enough 😛 In the evening, I decided to wander around a little and try some of the food that Georgetown is so well known for. And I was not disappointed.
At one of the street stalls, I bought something… gooey? It looked quite disgusting, but it was delicious! And it cost almost nothing. I was obviously not the only person confused by what this strange food is, because a small group of people around the stall started discussing it with me and we all tried our best guesses. Later we were told it was some sort of rice cake (none of our guesses were even close to that). After food, my conversation partners invited me to join them to a shisha place and so I did. I also met up with Neil, a guy I got to know in Koh Lipe, and together we got a drink at nearby bar. I really loved that place. It was quite small, but fully packed and it had a live band playing great music.
Street art hunting
The next day, I've decided to go searching for the street art, which is the second thing Georgetown is known for. Neil came along and together we walked around the town for most part of the day. I have to admit I was pretty excited about it. It was like following a pirate map and searching for treasure 😛 And the street art was really good, I can absolutely see why people come here to see it.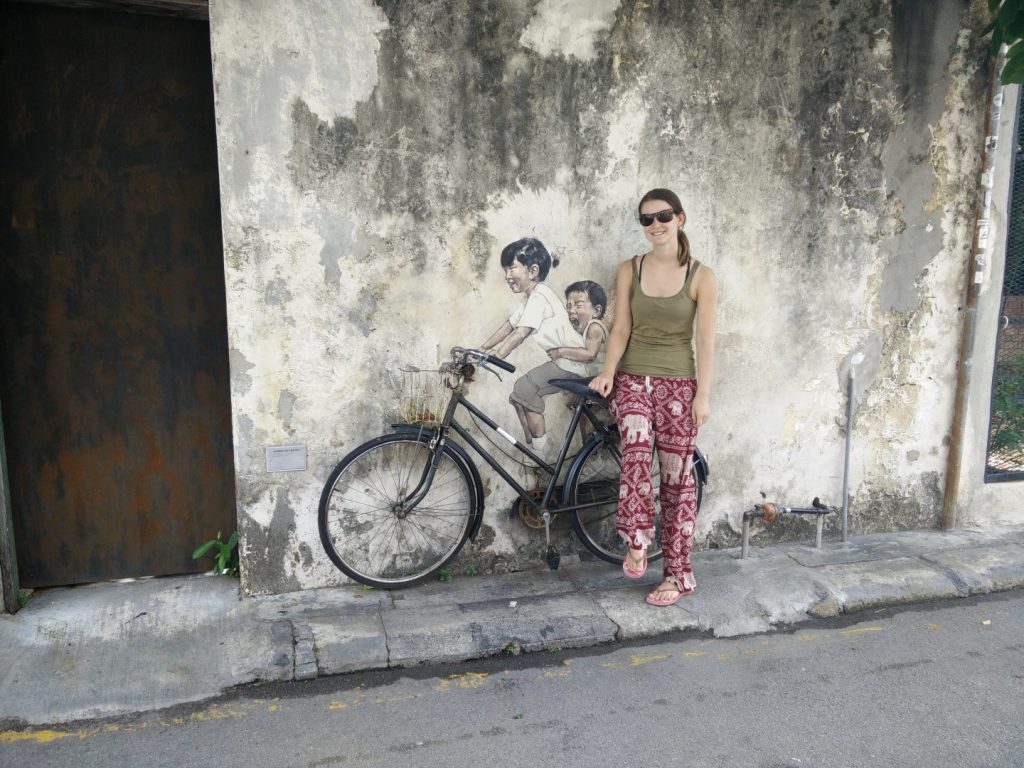 At the end of the day, we went to the Penang Hill, which offered a nice view of both Penang (the island Georgetown is at) and the mainland.
We had dinner and then (a little too late) discovered this amazing food court, where I finally got to try a local desert I've been looking for, cendol. It's a strange mix of everything you can imagine, some weird jelly noodles, shaved ice, beans and corn… The first few bites taste quite good, but as you keep eating, it starts getting more and more gross 😛
Tea plantations & Mossy Forest of Cameron Highlands
On the bus from Georgetown to Cameron Highlands, I've met a Czech couple, Barbora and Ondrej. Coincidentally we ended up staying at the same hostel and they told me about their next stop, Taman Negara. I've been planning to go to Ipoh, but I'd much rather see some jungle than a town, so it didn't take too much before I decided I'm going with them. We all booked a trip to the Mossy Forest and the tea plantations for the next day.
I've heard a lot of praise about the Cameron Highlands' tea plantations, and now I can confirm, it's not just words. It looks amazing. If I did not know better, I would say some of the pictures I took must be photoshopped. Our tour guide was great and the journey has been quite educational.
After the tea plantations, we got to the Mossy Forest. There are two ways to see it, a boardwalk, which is what most public does, or a nature trail. We visited the boardwalk very briefly, just to get an idea what it's like, and then continued to walk the nature trail.
It was incomparably more beautiful, the experience of walking on the soft ground really completed the experience. Mossy Forest is so beautiful. The moss grows on all trees, but it's also what the ground is completely covered with – there are several meters of it, entangled by various branches and roots. Walking there feels like walking on a giant sponge.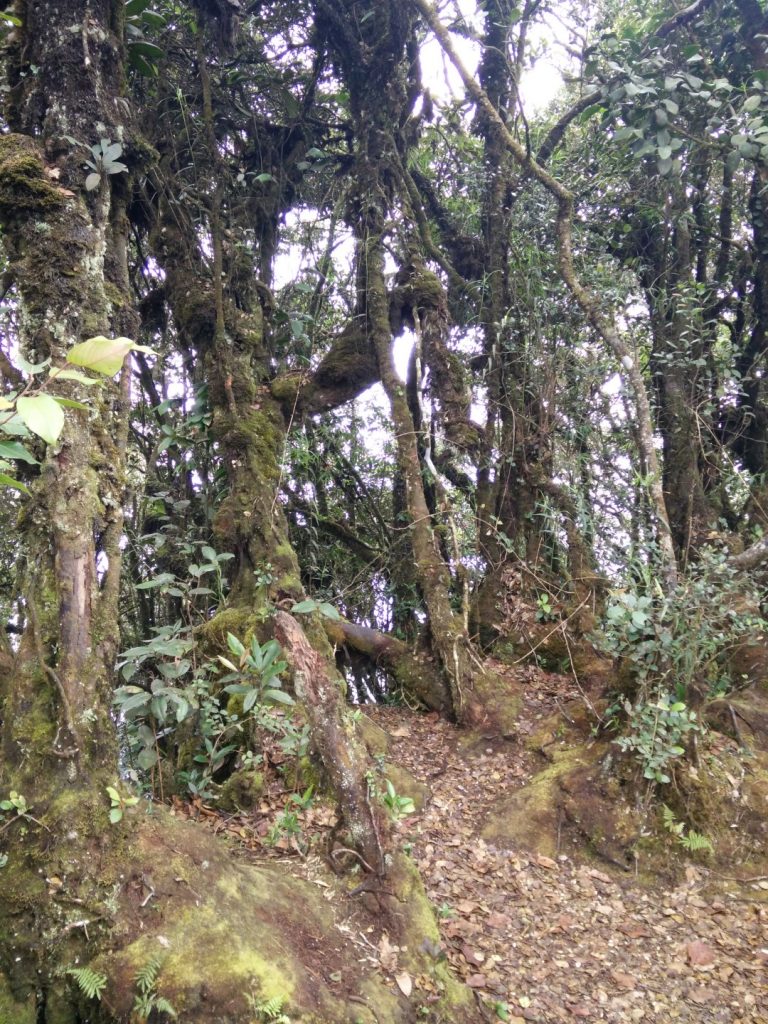 After the organized tour ended, Barbora, Ondrej and me trekked back to the village on our own. It was great, because there were no people at all and we had the beautiful forest just for ourselves.
Crowds in Teman Negara
After Cameron Highlands, I've been quite psyched for Teman Negara. It was supposed to be a real jungle, with tigers and all sorts of other animals! (Fine, I knew I was most likely not going to see those, but still…) In the end, it was not really what you imagine after watching loads of National Geographics though.
Together with my new Czech friends, we have booked a night jungle walk tour. And frankly, it was a little frustrating. The group was way too large for having just one guide. We have been warned that there might not really be any interesting animals to see if we are unlucky, and I completely understand that, it's not a ZOO. However, even when we came across a scorpion, the first few people of the group already managed to scare it off before the rest could see it. Personally, I caught a glimpse of one small scorpion and one big spider. I figured that's good enough, it could have been worse.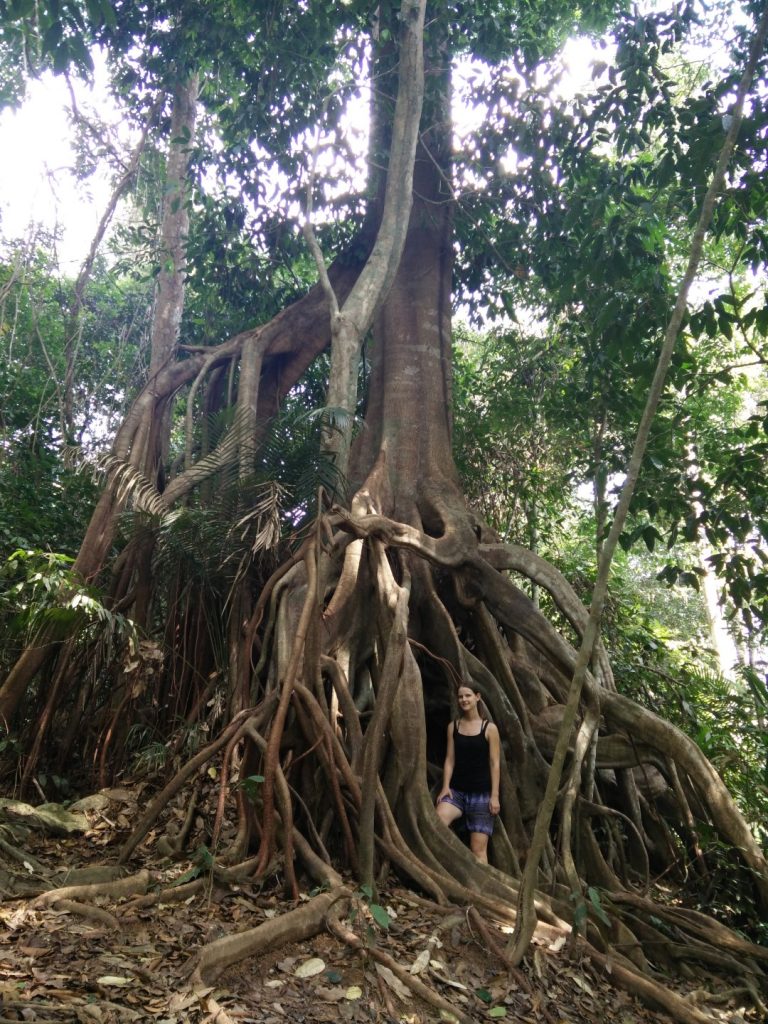 The next day, we did another organized trek to the canopy walkway. The canopy walkway was quite fun, apart from the fact that there were tons of people and we had to wait for about an hour (which seems to be quite usual there). I think the whole trek would have been more than doable on our own. After the organized trek, we did a smaller one on our own again. The 6.2km didn't seem like much on paper, but after a whole day of walking with the insane humidity and the heat, the exhaustion kicked in much earlier than I would have expected it. And when I run out of water in the last part, I was really just dragging myself back.
About my roommates
The one thing I cannot leave out about Taman Negara is how it got me in touch with my feminine side a little more. I had 2 roommates, a cute little frog Nelly, who lived in my bathroom, and a giant, ugly cockroach Stan. I wasn't sure if I should try to kick Stan out of the room, but I figured as long as he stays in the drawer where I found him, I'll pretend he wasn't there. We had an understanding and Stan honored it during the first night…
The second night, just as I was packing my bag, I felt something land on my shoulder. When I turned around, there was Stan, 2cm from my face. I let out a complete banshee screech (if someone recorded it, it would have been a great sound for some horror video game) and furiously shook Stan off. I've spent the next 30 minutes hunting Stan down with a small bucket and a piece of paper, because he crossed the line and I no longer wished to stay in the same space with him… It took me a while to fall asleep afterwards, and I was more than grateful for the mosquito net above the bed. I was not planning to get intimate with any more wildlife that night.
I also think I got bitten by a leech, because I noticed my foot is bleeding pretty bad in the shower after the hike and it did not look like a cut (I had plenty of those too). But even with all the cuts, bruises and hostile insect, it was worth it. I think Taman Negara is a very nice location, but the large amount of people there was quite a turn off. We might have just been a little unlucky, because the weekend with some holiday for Malay people just started, so there was a lot of local tourists as well. I also know that if we came one day later, it would have actually been much, much worse.
How I almost had to spend a night in a hammock
Yesterday I've arrived to the Perhentian islands. I've been expecting to kick back and relax here, but plans don't mean much sometimes… It turned out that the Malay holiday I mentioned did not end until the day after. When I arrived here, I basically found that that everything is about 30% more expensive due to the large influx of local tourists and that there are almost no free rooms on this whole island. At some point, one of the hotel owners kindly offered that if I can't find anything, he'll let me sleep in a hammock outside… And for a while, I thought I might just have to take him up on that.
After two hours of walking around, sweating and thinking I should have stayed in Cameron Highlands one day longer, I finally bumped into something that was remotely affordable for me. The location was not great and it was still quite pricy (more than 4 times of what I usually pay), but I just couldn't care anymore. I dropped my backpack, sat under a fan until I cooled down to a normal temperature and then I went to get dinner and read a book. After dinner, I headed to the beach, lied down at the most remote spot I could find and listened to the calming sea.
I've just checkout out from my current place and I'm eating my bruch (scrambled eggs, toast and a fruit salad), after which I'm going looking for a new accommodation… and I really, really don't feel like doing that, I've had quite enough of it yesterday. Hopefully, it won't take too long this time.
Sorry, no pictures yet, I've been too exhausted.
My impressions of Malaysia
I've only been here for about a week, but I think I can already say something about the country. First of all, I'm very pleasantly surprised by the level of English here. It's definitely higher than for instance Thailand and Myanmar. Most people can have a simple conversation on a decent level, which really makes things much easier for me.
Malaysia is much more developed than any of the countries I have visited so far. You can see it in the little things (such as most places having soap in public bathrooms… yeah, I'm not kidding, that's kind of a luxury), in bigger things (people drive nicer cars) and in that people from the surrounding countries come to work here (e.g. at the tea plantations). Strangely enough, the internet connection is considerably worse than in Thailand or Myanmar.
It also has very, very beautiful and varying nature. And some serious storms 🙂
I was a little concerned about how traveling Malaysia, a vastly Muslim country, will be for a single female traveler. Luckily so far, I haven't really had any trouble, regardless of how I'm dressed or whom I'm interacting with and I haven't really felt unsafe in any way. I would say the same rules apply everywhere – as long as you're not acting like an idiot (passing out drunk somewhere in the middle of the night) and are somewhat careful and mindful of what happens around you, you should be fine. I've had one or two conversations, where I thought I was not really being treated the way I've seen other people being treated, but it's hard to say if it was because I'm a woman/non-Muslim/white/foreigner or a combination of multiple of these. But as long as it's just about niceties, I can deal with it. I think it might be a little more unpleasant in Kuala Lumpur, at least that's what I've heard, but I can't really pass judgement on that quite yet. Malaysia is very multicultural and I think that helps with accepting the majorly different ways of life of other people.
However, the influence of the Muslim religion definitely reflects in anything alcohol related. Booze is expensive! I haven't really been drinking a lot on this trip, but in Malaysia I'd rather order a juice than a beer in a bar. The fruit juices and shakes in Southeast Asia are absolutely amazing and I refuse to pay the crazy amounts for beer.
Lastly, Malaysia is full of Dutch tourists! Seriously, I'm not sure why exactly it is, but it's quite strange. Sometimes I feel I'm back in Amsterdam.
I think that's about all… take care everyone and feel free to write me something, I love hearing how you guys are doing 🙂
N.