Hi again! 🙂
It's been a while since my last post again. It's improving though! 😛 Let me tell you what we have been up to this time…
Our start in Bali
Last time, I've finished my story with telling you we have just arrived to Bali. Before I say anything else, let me just say "Bali is crowded". This was unfortunately true everywhere we went.
After our arrival, we headed to Seminyak to enjoy a beach day and rest a little. The beach in Seminyak was alright, but not at all special (a warning btw, Barry started calling me "beach spoiled", so maybe my opinion is not the most neutral one 😛 ). The sand was hardly white and the sea was mostly good for surfing, i.e. nothing else (unless you like big waves, sand everywhere and being hit by a surfboard in your head). I think the fact we have about 2 pictures from there and none of them are worth uploading proves my point.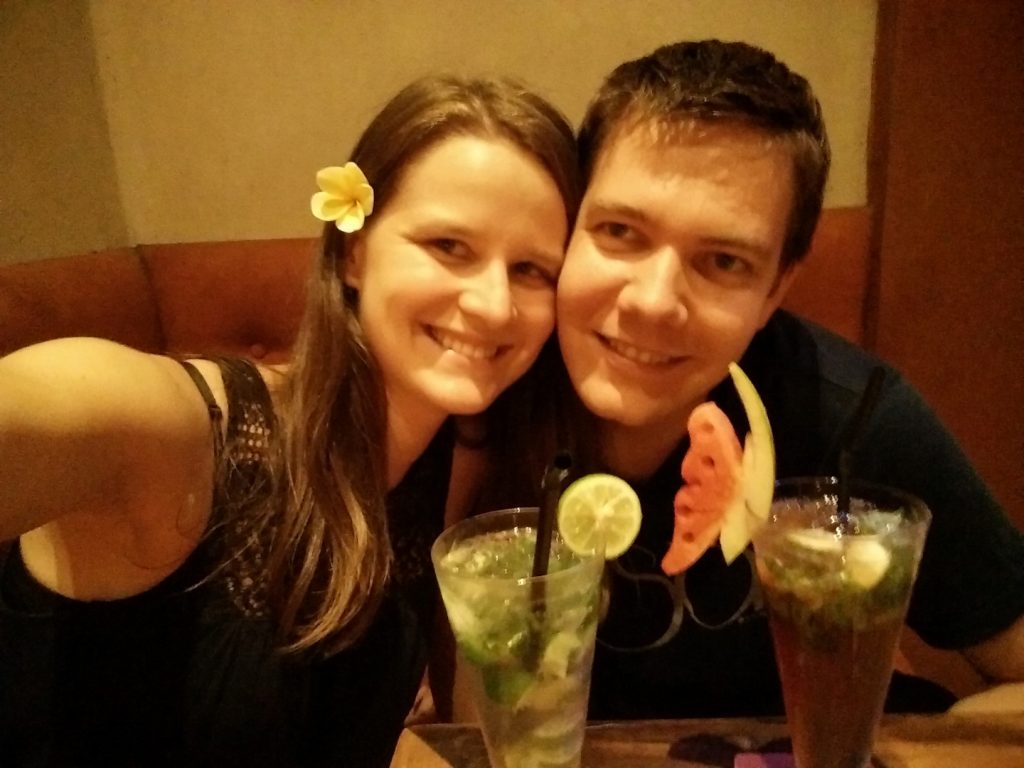 From Seminyak we moved on to Sanur. The main reason was that Barry needed to do some actual work and he found a co-working space in there he wanted to try out. He seemed to like it 🙂 While he was working, I've spend one of the days sorting through the loads of pictures I have and writing the previous blog post. The other day I did two dives at a pretty cool World War II cargo ship wreck near Tulamben. I finally got to try out my new GoPro and took some pictures and videos! 🙂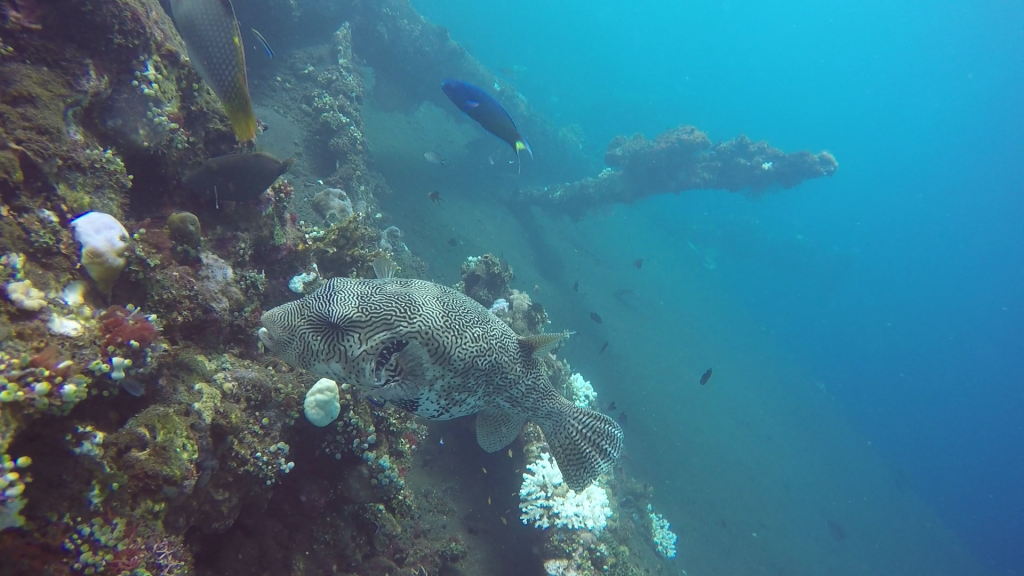 Underwater photography is damn hard – apart from all that normal stuff (which I know almost nothing about), you also have to worry about light much more (otherwise the colors are extremely off and everything has a strange hue), you have to be at very particular angles, keep steady, get really close but not startle the fish and keep aware of your surroundings to make sure you don't kick into a coral or something. I'd love to learn more about this, but I'm already starting to worry that it will turn diving into even more expensive hobby than it already is 😀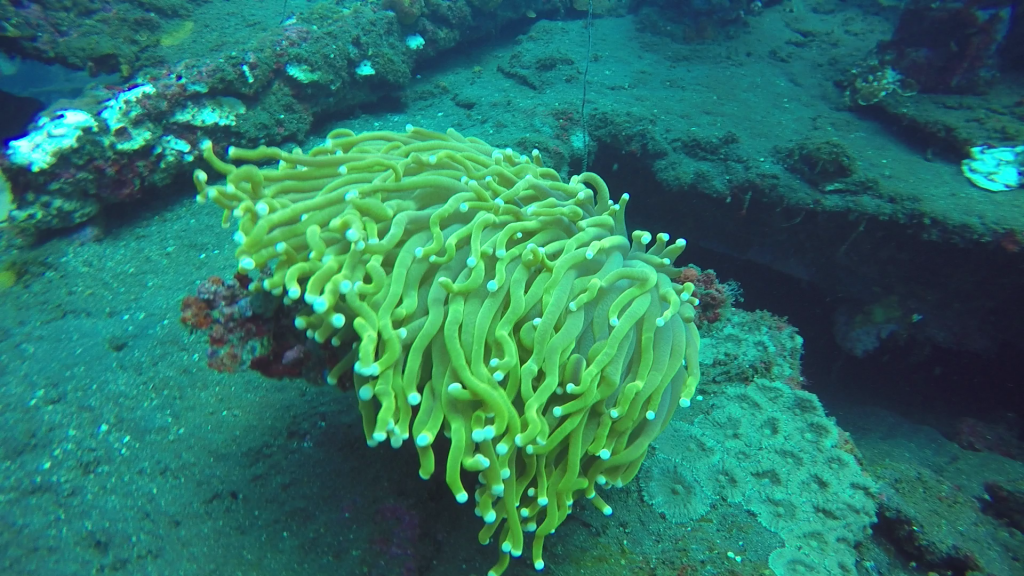 Renowned Ubud
Our last stop in Bali was nothing else, but the famous Ubud. Until now unimpressed by Bali, I have to admit Ubud did have its charm. It was a nice town with a lot of interesting architecture. Only after we left, I realized we barely took any pictures of the town itself, which is a real shame. During our stay, we visited a few of the tourist attractions.
We started with the monkey forest sanctuary. It was quite nice, but as we already knew, the monkeys can very quickly turn from cute and funny to vicious little bastards that won't let go of your bag and oh-my-god-get-that-thing-off-of-me! At some point there were about two or three, trying to get into Barry's backpack, which was luckily locked. At first he laughed and figured that they'd eventually leave, but it stopped being funny after they managed to get their little paws through the small gap between the two parts of the zip anyway and started throwing random things out.
Looking back at it, it was pretty hilarious, but we honestly did not know what to do at that time. My best contribution was snapping a few pictures of this spectacle and trying to pick up everything they threw out. I guess didn't do a great job at that though, because he was missing a pair of headphones in the end. He plans to claim it on travel insurance 😀 I wonder how that conversation is going to go 😛 But I digress…
We also visited the lovely rice terraces nearby. The picturesque countryside made for a very pleasant walk and also a nice place to get a cool drink and simply enjoy the view.
Finally, we finished the visit of Ubud by getting a very good traditional Balinese massage together. Highly recommended 🙂
Admittedly, we did not have that much time in Bali, but we both concluded that it's kind of overrated. I had rather high expectations and it ended up not being all that beautiful, it was only alright. And that would also be fine, but it was so crowded… and this was low season! I understand how tourists choose it for its convenience, but I definitely think there are better places to go to in the area.
We've seen the dragons!
The reason why we had only so little time in Bali was that I still really wanted to see the Komodo dragons. The dragons are the largest living lizard, and in the whole world you can only find them in a small part of Indonesia. We basically flew in to Flores, went to see them for one day and flew out back to Bali again. All in all, those damn dragons made for a pretty expensive trip 😀 And the crazy person I am, I'd absolutely do it again.
After arriving to Rinca, the island where we went for our Komodo tour, we were in a group with 4 other tourists and 2 guards. Turns out those huge lizards can be dangerous. Unfortunately, we were told that the mating season for them already started, which basically meant that they are very hard to spot. This was quite disappointing to hear, but in the end we still managed to see two mature ones and a few baby ones 🙂
They were really impressive and it was a little hard to imagine that they can actually run very fast and easily kill a buffalo "for dinner". Actually, the whole island was full of gigantic skulls, which they apparently cannot swallow (due to the size of the horns I think) so they just leave the head. I can probably speak for all of us when I say we were quite happy to have the tour guides with us. I absolutely loved them though 🙂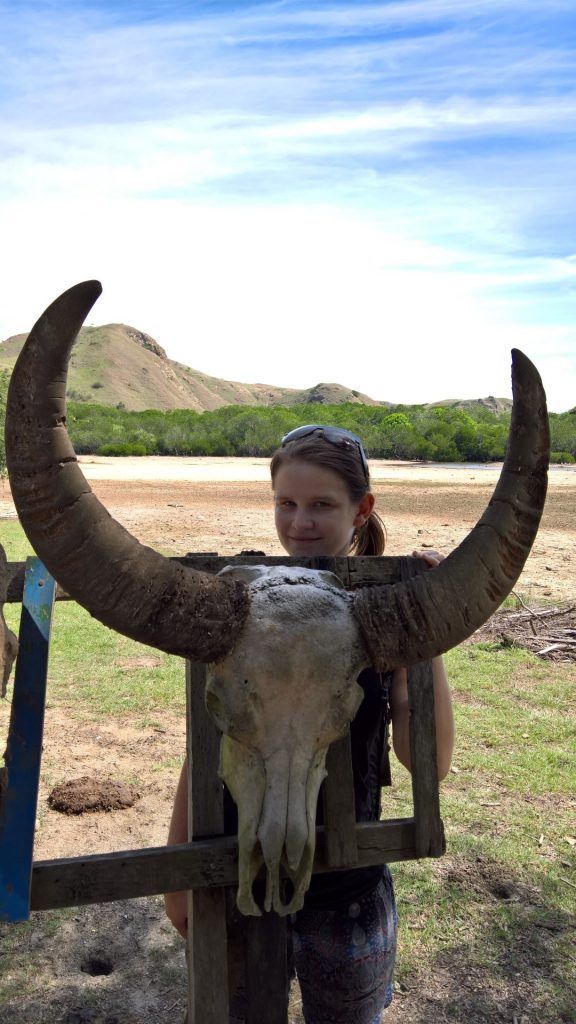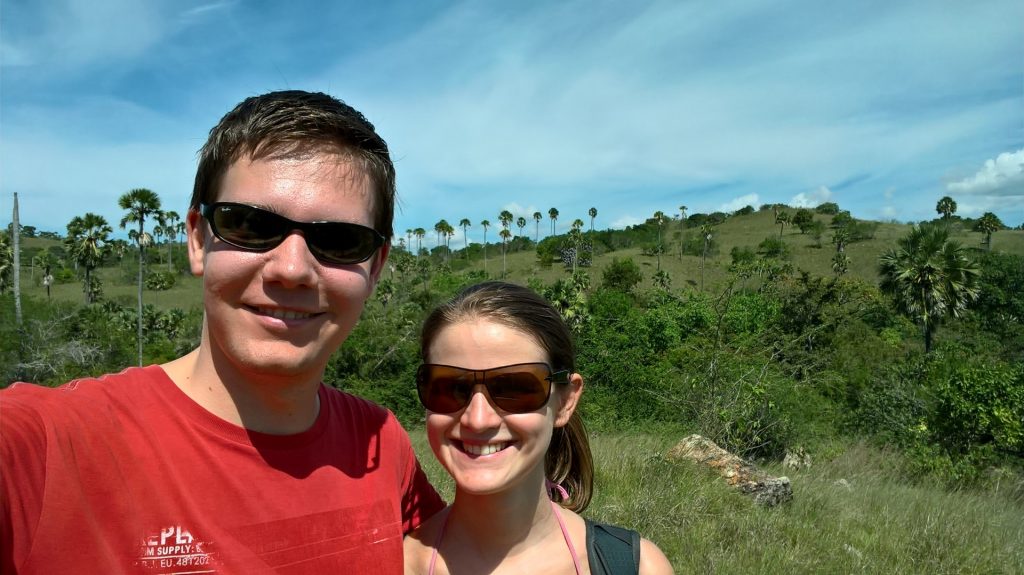 Getting to Palawan
From Flores, we've taken a flight to Bali, and then another to Singapore, and then another to Manila, and then another to Puerto Princesa, to get to Palawan. It was horrible, don't do it. We were both tired and cranky (one of us more than the other… might have been me…), but not wanting to stay in Puerto Princesa, we pushed through that and still managed to get over hours of bumpy ride on the Palawan roads to San Vicente. To say we were happy to finally have a bed would be an understatement.
San Vicente
When rested, we decided to stay a few days in San Vicente. We were in a nice resort with a pool, a beautiful view and a good restaurant. We rented a motorbike – and this time I mean a real motorbike, not a scooter. As neither one of us has ever driven such a thing before, this was quite daring, but we did not really have any other option to get to the beach. I have to admit this was the first time where I did not feel like asking which one of us is going to drive it. The bike itself kind of looked like it's a remnant from the World War and the roads in the area were either dirt roads, or roads under construction with lots of holes in them. I was quite happy when Barry took it up on himself to drive that thing from hell 😛
I later tried it for a little while, but I did not dare to drive it with the both of us. Having it turned out really great though 🙂 We drove along the coast and enjoyed the lovely Long beach. It truly deserves its name and fortunately for us, it's not only long, but also rather deserted. I think we only met two fishermen and one local family. Having the whole place for ourselves was pretty amazing 🙂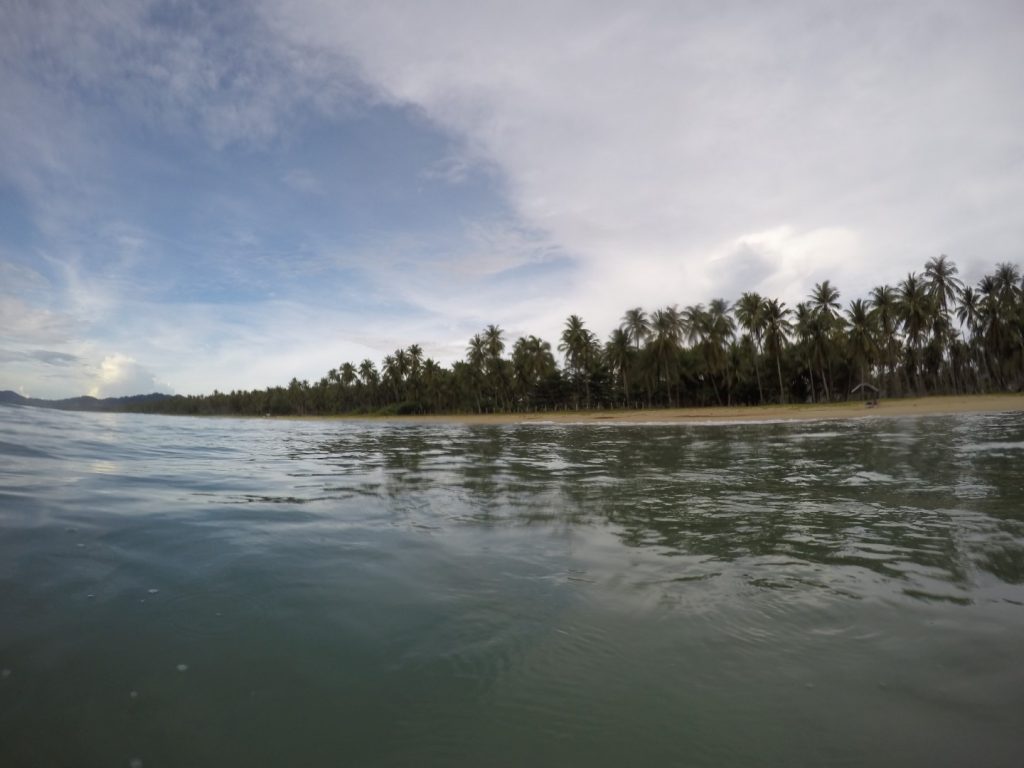 The brief stop at El Nido
Having only a few days left together, we decided to head up to El Nido, as it seemed to be "the place to be". And I think it was. Unfortunately, due to the weather conditions, we only had one good beach day here, but it was really beautiful.
It was a real shame to go back to Puerto Princesa, I would have really loved to stay in one of those beach huts together. El Nido is what I had hoped Bali would be. And we didn't even see all the other amazing beaches and small islands nearby. Because of all this, I think Palawan is definitely going on the list of places to come back to 🙂
El Nido was also the first place where we have officially rode in a tricycle, a highly popular form of transport here. It's basically a motorcycle with a sidecar attached to it. It's very tiny, although the locals seem to be able to cram a 6 member family into them anyway. I honestly don't know how, we barely fit there with our luggage.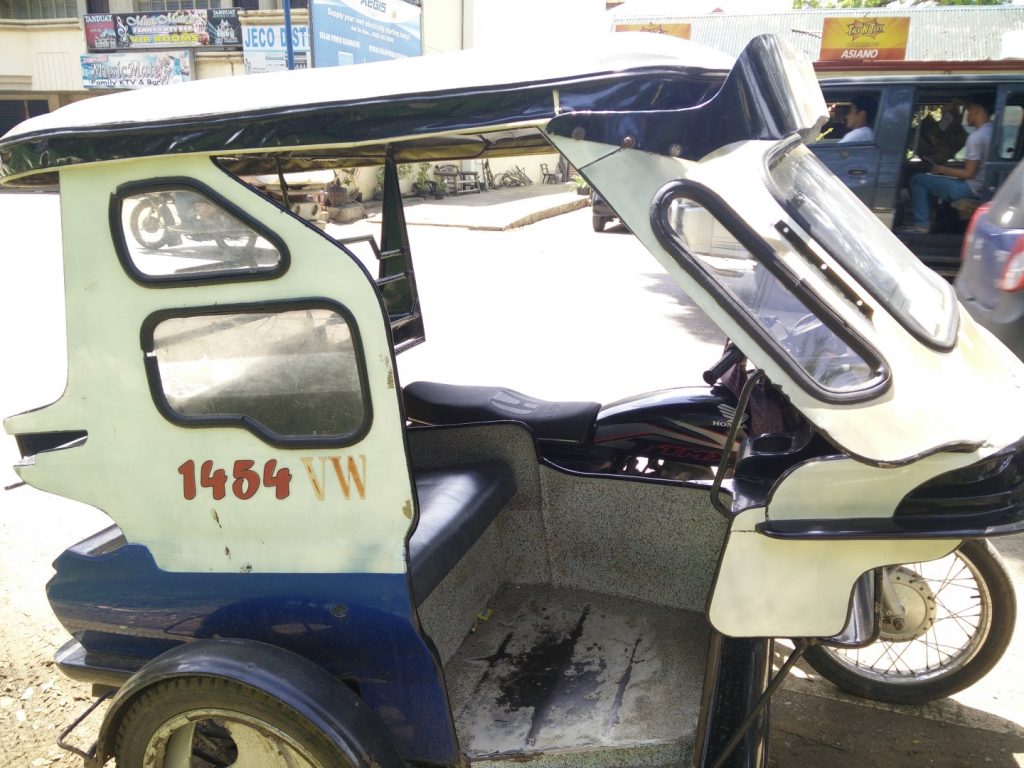 The third goodbye
A dreadful night bus ride took us back to Puerto Princesa, where we checked into a nice hotel for our last day together. We got some well deserved sleep and made use of the hotel pool. Barry packed his things (and on my request some of mine too) and I of course went with him to the airport. And just like that, I became alone again.
We've had some amazing time together and despite knowing how unrealistic the idea is, a very tiny piece of me kept hoping he'd decide to stay and finish the trip with me. I expected I'm going to feel really, really horrible after he leaves, kind of like when I arrived to Bangkok the first time. It wasn't like that. It's not that I miss him less, but I guess I did not realize the full extent of how stressed out and scared I was in Bangkok. I'm not anymore. I can get around, I can make sure I don't get ripped off everywhere I go, I can make decisions which make me feel safe… Although having a second pair of eyes with me was very nice and comfortable, I'm doing just fine on my own. And honestly, I feel damn proud to say that 🙂 And so instead of fighting tears all evening as I did the first night in Bangkok, I spent it browsing through the pictures we took together, fondly remembering all the amazing things we've done this month and thinking it won't be too long before we see each other again 🙂
Planning onward
Today, I managed to run some small errands, enjoy the swimming pool, sort through the latest pictures, write this blog post and actually make some planning for my next two weeks in the Philippines. This is the first time I actually have a concrete plan. I have a few reasons for this. I decided I should figure out what to look forward to instead of dwelling on being alone. I also know I need to pick up the pace of my travel, both due to financial reasons but also simply because of I don't want to keep this up for that much longer. My original "deadline" of 6 months is about 2 months away, and I think I'm more than fine with this, even though I still have 3 and a half countries to go. Lastly, I feel that the Philippines are the last place where I can do some good diving, I don't expect Vietnam or Cambodia to be nearly as great. I've decided to make sure I visit some of the amazing diving spots here and do my advanced diving course along the way 🙂
I actually found it quite difficult to make the plan. It's quite complex to navigate here if you don't know anything about the country. In most other countries, all you really need to know is A is closer to B than to C and maybe 2 or 3 hubs in the area. In here, the mesh of buses, ferries and possible flying routes is quite overwhelming. Not to mention most companies don't have a proper website (or a website at all) and relying on forum information is always questionable…
I spent a few hours trying to draw a map of possible connections (and then redrawing it, because it sucked) and contemplating which combination to choose. And yes, my beloved software engineers, the idea that it would be faster if I had written a program for it has occurred to me multiple times 😛 Finally though, I think I managed to figure it out!
I'm going to leave you with that, because I'm starting to rant again. Thanks for reading again, I hope you enjoyed it 🙂
Peace,
N.