Hi everyone! 🙂
Last time I posted, I was just resuming my journey alone. Since then, I've managed to "finish up" the Philippines and I'm just about to fly off elsewhere. But let me get into the details…
Direction: Apo island
After Barry left, I've decided to head to the Apo island. As far as I was aware, it was supposed to be an amazing diving spot. I spent one day flying to Iloilo, taking a ferry to Bacolod and catching a bus for a long (and very uncomfortable) ride all the way down to Dumagete. I've slept over there and in the morning got onto another bus and another boat… I guess by now you get the point I'm trying to make, it was a long journey.
Apo is a very tiny island, you can walk across it in a few minutes. There is no running water, so I showered (and did everything else) old school, by pouring buckets of water over myself. The electricity is on only for a few hours a day. The available accommodation is very basic, but my room was quite roomy and comfortable. None of that really mattered though, I only really cared about the diving. I finally wanted to do my advanced course and this seemed like the place to do it. And it was.
Diving on Apo was all it was promised to be by the usually exaggerated online reviews. The marine life there was booming. There were fish and even turtles swimming everywhere around me. The corals went as far as the eye could see. This is certainly what diving paradise looks like 🙂
I spent two days diving and getting my advanced certification. The course itself was a lot of fun, doing deep dives and night dives opens up a whole new world 🙂 I simply loved it.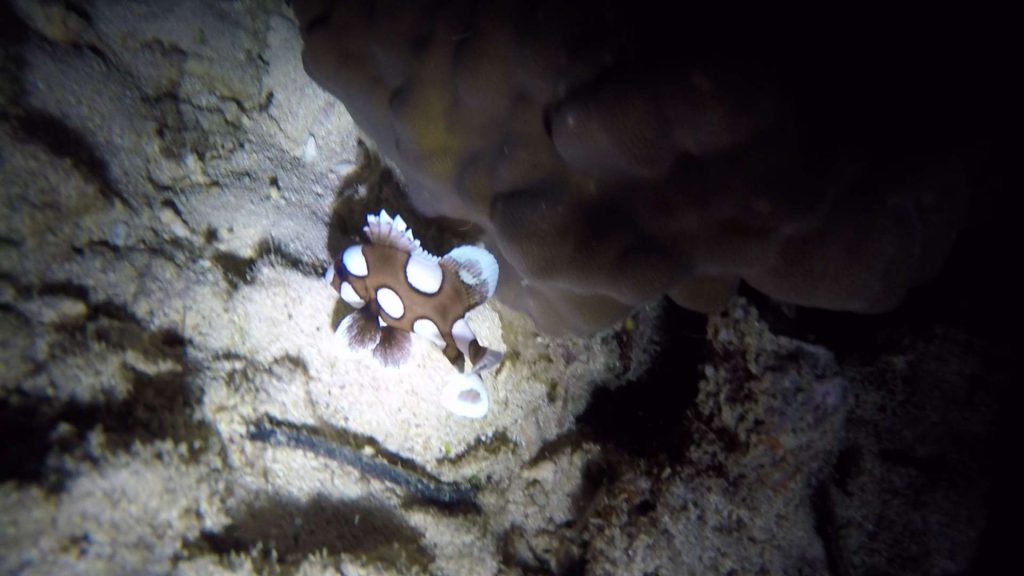 Although the diving at Apo was amazing, after a few days it was starting to get a little expensive. I also missed having a real shower 😛 So, on my third day, I headed off to Bohol.
Diversity of Bohol
In Bohol I stayed at a pretty nice place. It was a hostel, but at the same time a farm, and it had a very local feeling to it. I met a few girls there and together we rented out some scooters and went around the island during my first day.
We visited the famous Chocolate Hills, which I thought were not that spectacular… it was just a bunch of hills 😛 It looked pretty, sure, but I certainly wouldn't travel great distances (as many people do) just to see them.
After the Chocolate Hills, we've gone for a pretty good dinner at a floating restaurant. It was rather expensive, but the food was tasty and it was made even better by the live music boat ride on the river.
Last, but not least, we've also visited the tarsier sanctuary on the island. I've officially decided tarsiers are the cutest creatures on earth, ever. I've seen some pictures of them before, but I always thought they were about the size of a koala bear. It turned out I was wrong, they are actually very tiny, about the size of my fist (and I have pretty small hands 😛 ). My heart really melted for them all. Unfortunately, their size and my having to keep distance to not disturb them too much made taking a picture nearly impossible. I still tried through 🙂
Our girl band slowly dissolved on the second day. The remaining few of us went to the beach in the morning, then we barely avoided some very heavy rain in the afternoon and finally drove around the island a little more in the evening. We also managed to find a Greek restaurant, which I was pretty excited about, because I haven't had any Greek since the beginning of my trip. It's the little things 🙂
Gentle giants
On my last day, I've decided to join a snorkeling tour in Oslob. Oslob is well known for snorkeling and diving with whale sharks.
In all honesty, I felt a little torn about it. In a way, it was really amazing to see the beautiful creatures so close I could have touched them. I really admired them. Swimming next to them really makes one feel small. And these weren't even that huge, I think it might have been about 6 meters.
On the other hand though, it wasn't nearly the romantic experience you're probably imagining right now. The sharks were completely surrounded by these annoying, little humans, desperately trying to get a little closer or take a good picture. Furthermore, the sharks did not just swim around, they were obviously there just to feed and that's what they were doing (not that one can blame them).
The down
As I've already said, I loved diving at Apo. It was keeping me busy for most part of the days. However, when I was not busy with diving, I was feeling somewhat down, which started already back at Puerto Princessa. At first I attributed it to saying goodbye to Barry, but when the diving in Apo did not bring me up, I started to think it might be a little more than that. In Bohol, the feeling continued and intensified. At a certain point, I realized I wasn't even enjoying myself most of the time. It felt like I was just going through a checklist. It was still nice to see everything I saw, but all I truly wanted to do was go home, sit down and chat with the people close to me, instead of the bunch of strangers I just met.
When you start feeling like this, traveling becomes extremely tiring. You start to hate not having your own bed, shower or a smidgen of privacy. You start to hate how everyone and their mother is trying to rip you off and how you have to stay alert at all times. You start to hate the packing and unpacking and packing and unpacking… You start to hate the constant moving around, meeting new people, trying to make friends and then saying goodbye to them two days later… It becomes a very negative, downwards spiral. And that's the place I was at. I decided I don't want to take my flight to Vietnam anymore. I decided to make my way to Cambodia, quickly see Angkor Wat and the killing fields (I feel like that's a must), and then continue back to Thailand and fly home. I also realized that it's a big decision to make and I should probably give myself a little bit more time before booking my flights. And so I headed off to my next destination, Malapascua.
Thresher dives
Malapascua is another small island with ample diving opportunities. In all honestly, after diving at Apo, diving at Malapascua felt like being in a puddle of mud.
Now you're probably all asking, why did you even go there? Well… to see thresher sharks! And in that aspect, I was not disappointed.
I saw them in two of my dives and I instantly started adoring them. Their long tail makes them seem very graceful when they swim. In addition, they have really big eyes, which make them look like they came out of a Disney movie. Super cute 😀
The up
Apart form the shark dives in Malapascua, I've been staying at a nice little resort at the seaside.
Over the course of 5 days, I've met a whole lot of really cool people and I had a really good time. We hired a boat and spent one day drinking beer, snorkeling and even cliff jumping. (That was so scary! But I did it 😀 However, it turns out you're supposed to give people heads up before you jump, otherwise they don't take pictures of you…) We visited some of the beautiful, empty beaches at the island. We played frisbee at the pool… And at some point, as I was listening to some of them talking about the places they've been, I've realized that I'm very enthusiastically thinking I'd love to go there. And that's when I it came to me, "I'm back baby!" 😛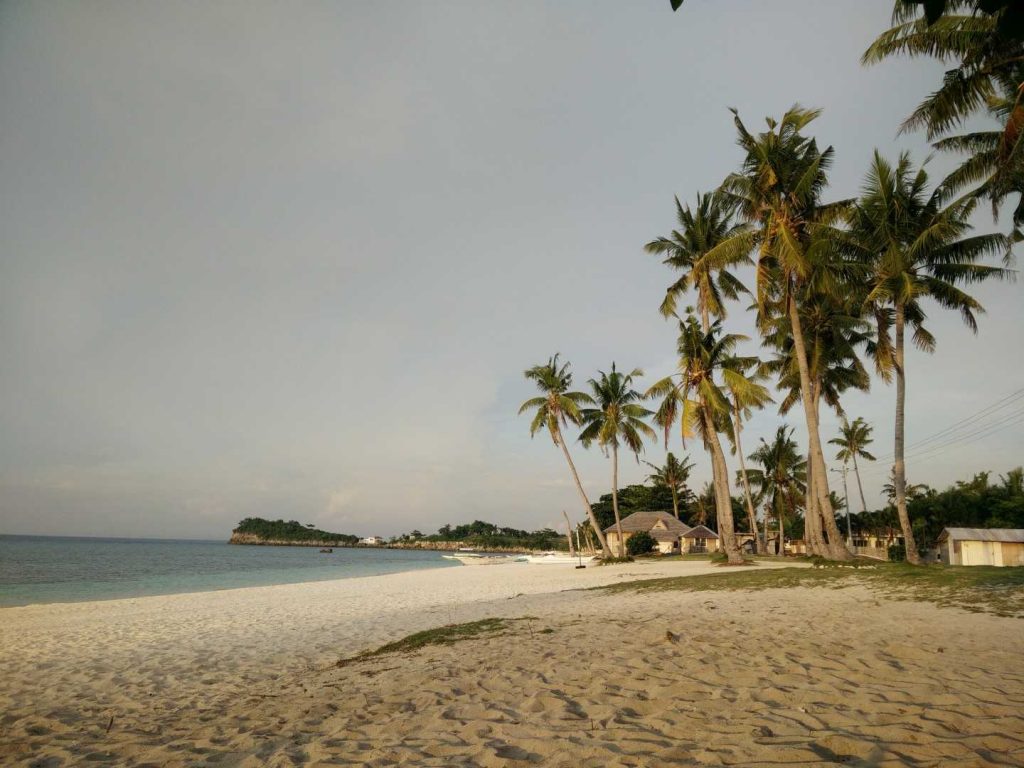 One of the people I met was Rachel, who had a flight to Ho Chi Minh City (HCMC) just two days before the flight I was supposed to take. I've asked if she wants to travel Vietnam together and now that's what we're going to do 🙂 I'm flying to HCMC tonight and I'm meeting her there.
As much as I was ready to slowly call it quits, I'm really glad I didn't. I'm very excited about seeing Vietnam. I'm back to "living by the day" and surely making the most of it 🙂
I'm currently at the airport, waiting for my flight to Manila, where I switch to HCMC. I should probably figure out if it's already boarding time 😛 Thanks for reading again, hugs to all of you! 🙂
N.