Hi everyone,
Long time no post, I know. I felt like I haven't really been all that active lately, but writing this post has proved me wrong yet again 🙂 But let me start at my visit of Mandalay…
The reality check on my way to Mandalay
I took a night bus from Inle to Mandalay. On my way, I've met a girl, who seemed to feel quite bad. After striking a conversation with her, it turned out she had just returned from a hospital due to some stomach issues couple of days ago and now she started to feel bad again. I've been feeling pretty sick the last few days myself, but this has really put things into perspective for me. It is really easy to feel sorry for yourself when you're sick, all alone and far away from home.
I really hope she is doing better now.
Mandalay
After arriving to Mandalay at around 2:00 o'clock at night, I've defiantly decided I'm not paying a ridiculous amount for a cab, when my hotel is just 10-15 minutes of walking away. I put on my backpack and carefully followed the Google maps directions. It was rather uneventful, until I got to the street of my hotel. About 2 minutes from it, I basically got surrounded by 3 rather large dogs who wouldn't stop barking. I was terrified and at the same time angry at myself for not taking the cab. Luckily, my guardian angel – some guard, who appeared out of nowhere – magically shoo'd the dogs away. With my adrenaline levels through the roof I finally reached my hotel. After I calmed down a little, I woke up the reception guy (which took a lot of force – I was pretty much shaking his whole body 😀 ) and luckily was told that I can check in early (12 hours early!). I was so happy to take a shower and descent into the nice, clean and soft bed, instead of sleeping at the reception as I had originally planned. I have to say, I booked a proper hotel mostly because I was scared of still feeling sick, but it turned out to be a very welcome luxury.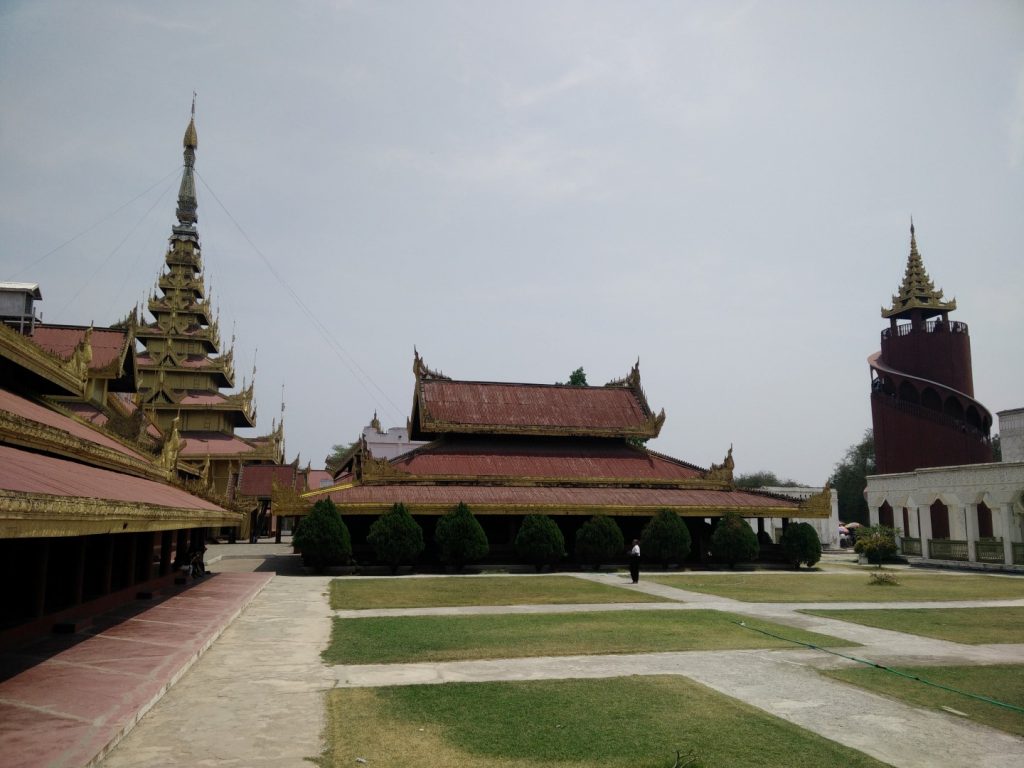 The next day, I've made use of my hotel's free bicycle service. The years of driving a bike in Amsterdam could have not prepared me for what followed. Bicycle lanes? Forget it! Traffic lights? Almost none. I somehow managed to survive a whole day of this without getting hurt (and only got honked at in a "move you idiot" way once). I've visited the royal palace and a few pagodas, most notably the UNESCO heritage site – Kuthodaw pagoda, which contains the world's largest book. Along the way, I've had numerous enjoyable interactions with the locals, ranging from watching a simple gambling game with sea shells to sharing a cup of coffee with some older people. At the end of the day, I walked the stairs up the Mandalay Hill, then had some delicious Indian food and visited the Mandalay marionettes performance. I was rather impressed by the skill of the performers.
The last day in Mandalay, I followed an organized tour of the three ancient cities – Sagaing, Ava and Amarapura. Our guide was a very nice lady, who was keen to explain as much as as possible. We saw various workshops (woodwork, silverware, weaving), visited a very prestigious monastery (turns out there is such a thing), saw some temples and finally ended the day with a sunset at the famous U Bein bridge. I took up an invitation of one couple I had met on the tour and joined them for a really delicious dinner at a pretty fancy restaurant (almost Amsterdam prices).
After that followed a pretty long and dreadful way to Yangon – Bangkok – Koh Tao.
The turtle island & all the diving
Arriving to Koh Tao felt like I've discovered paradise. The south of Thailand is completely different from the north, almost as if they were not even the same country. The mesmerizing white beaches on the charming green little islands surrounded by the clearest water have really taken my breath away.
To keep this blog true, as I've promised myself I'll do, I also have to share the other part of it. Honestly, it's really difficult to write "I came to Koh Tao, an incredibly beautiful island, and I started crying in my room". However, I do believe it's important, for the sake of anyone who may travel in the future and reads this blog for inspiration and/or encouragement (as I did with many others). The truth is, sometimes being alone really hits you. Meeting a lot of people is nice, but you don't really make a lot of real friends, most of them are just fleeting acquaintances, who might share some amazing moments with you.
When feeling like this, I find it important not to keep wallowing in sorrow, but get out there and do something. And so I've decided to follow up on my plan of finding a diving school. I signed up for an open water course and to my surprise was told I should just do the video lesson right away, so I did.
The next three days I was really dedicated to following the course. It turns out that being on a boat and diving twice a day is actually pretty tiring. I wish I had taken some more pictures on the boat, but I was usually too busy preparing my gear or trying to eat the amazing fruit and coconut cookies and drink some water before the next dive.
I had high expectations for the diving, but the reality has surpassed all of them. At the beginning, it was a little scary (I had a moment when I was trying to equalize my ears and kept descending due to my poor buoyancy control – that was pretty terrifying), but it quickly became so much fun. I loved watching the underwater world. I also very much enjoyed learning a new skill. Being more and more in control was so exhilarating! Thus, the feeling of being sad was quickly replaced by enthusiasm and eagerness, which are much more enjoyable 🙂 I definitely want dive more on my trip.
Songkran
Fourth day on the island was the 13th of April – and this is important because it's the date of Songkran, the water festival celebrating the Thai new year. I got out to the streets and within 5 minutes was completely soaked. I quickly bought a water gun and joined in the craziness. I have to admit the enthusiasm and positive energy all around really brought out the kid in me. With my lone warrior spirit and face paint dripping from my cheeks, I heroically fought in the merciless water war for hours. No one was spared – the children, the elderly, the locals, the tourists… It was really, really fun 🙂 And it was awesome to watch some dedicated people, one older Thai lady literally kept jumping in front of people's motorcycles and wouldn't let them pass until they were properly soaked 🙂 She had some balls!
I tried to take some pictures, but my phone was in a waterproof case which was absolutely soaked and covered in sunscreen and face paint, so most of them really suck 🙂
The evening turned into one big party. I stayed for a while and then decided to take a walk along the beach and go to bed. All in all, pretty good day 🙂
Last moments in Koh Tao
On my last day in Koh Tao, I finally went to the beach and enjoyed some relaxing and doing nothing. For the sunset, I visited the Fraggle rock (I'm still not sure if this is the real name haha). I met a very kind Spanish fire fighter, Javier, with whom I later had dinner and a beer on the beach. We had a really pleasant talk about the solar system, free diving, the sea, boats, geckos, the dangers of coconut trees (one coconut literally fell one meter away from us – I'm quite sure that could have split someone's skull) and pretty much everything else you can think of. It was a very enjoyable evening. Finally, I returned to my dorm, packed my backpack and went to sleep.
In the morning, I discovered that I overslept (not because of alcohol!) and I'm supposed to meet up with my cab driver in 5 minutes. I gave up on the idea of taking a shower and instead run to the meeting point (lovely way to start your day). And off to Krabi!
Krabi & the monkey business
I've spent two nights in Krabi. I've arrived at 14:00 decided to still do something. I found a motorbike taxi driver who took me to the Tiger Cave Temple. I walked up over 1200 steps. I always wondered how can people get so sweaty at the gym, that they literally look like they just jumped into a pool. Well, it turns out all I need is 1200 steps on a really hot day, and I look exactly the same. Drenched in sweat, I concluded that I cannot begin to imagine how they managed to get the giant Buddha statue up there.
During my descend, I've suddenly realized there are monkeys in front of me. I've never seen monkeys in the wild and since I really love animals, I thought it was absolutely spectacular. While most other tourists were annoyed by how the monkeys tried to steal their belongings, I was happily taking my selfies with them 😛 One of the monkeys even jumped on my lap, tried to open my bag and eat my phone 😛 I really loved it, it was so cute. In the evening, I went to eat to the night market and then returned to my room and finally got some proper sleep.
The next morning, I've taken a long boat to the Railey beach. It was so beautiful! Embraced by the magnificent limestone, the warm, clear sea with its pure, white sand made for a truly picture perfect view. The only disadvantage was the large amount of people, but I didn't even mind that so much. After dozing off at Railey, I took a boat to Ao Nang beach.
Honestly, it was a nice beach, and if I didn't just come from Railey I would have loved it. But it just didn't compare. Ao Nang seemed to have a really lively night life scene, with some relaxed places to enjoy a cocktail or two. I was a little sorry I did not have the time to stay there for a night. I returned back to Krabi and decided to finally get my first Thai massage (I know, I should have done it long ago). There were a few moments when I was thinking "why am I paying this lady to hurt me so", but I felt wonderful afterwards 🙂 I'm gonna have to get a few more of them before I leave this country 🙂
One night at Koh Phi Phi
After Krabi, I've headed off to Koh Phi Phi. I've decided to only spend one night here – I really wanted to see the beautiful island, but there are way too many 20 year old backpackers getting drunk out of their minds to stay longer. I've walked to the Long Beach, seen the overcrowded (but beautiful) viewpoint, participated in the beer pong, saw at least two pairs of boobs (this place is a little slutty) and even spent some time at the dance floor, so I think I spent my time well.
I'm leaving to Koh Lanta in about an hour. I hope it's going to be a bit calmer there, so I can relax, maybe do a day trip to some of the smaller islands and try out diving again 🙂
Thanks for reading 🙂 Take care everyone, till next time again.
N.