Hi everyone 🙂
How have you been? Hope great! I'm not doing too bad myself. Let me continue from the last time I posted something…
A slice of Pai
Pai has been amazing. The part of the town where we were staying had an aura of serenity and calm around itself, I absolutely adored it. At the same time, there was a bamboo bridge, just a few minutes away, which lead to the center – a market, some small shops and cozy bars. I think I can safely say so far it's been my favorite place 🙂 Unfortunately, I only got to spend two nights there, which basically meant only one proper day. However, I think I used it well.
The day started by visiting the Lod cave. It was quite the experience – the cave was enormous, there was a part which we had to raft through. There were huge fish everywhere and when I fed them from the raft, they splashed the cold water on my legs. And there were so many bats, you could hear them everywhere.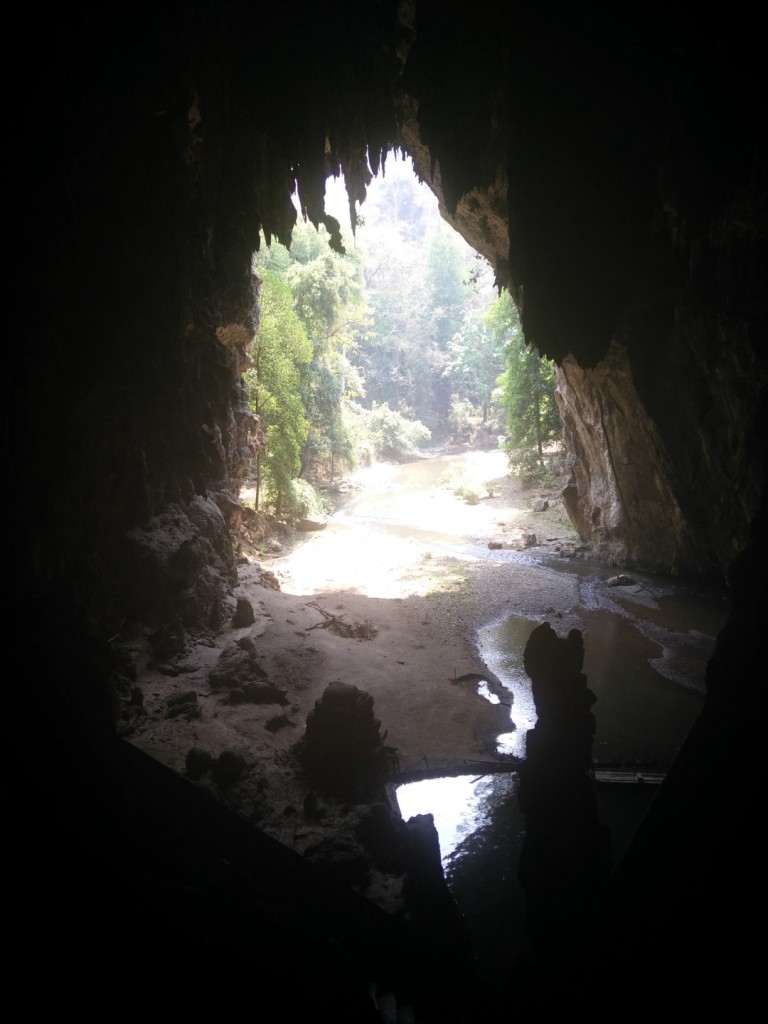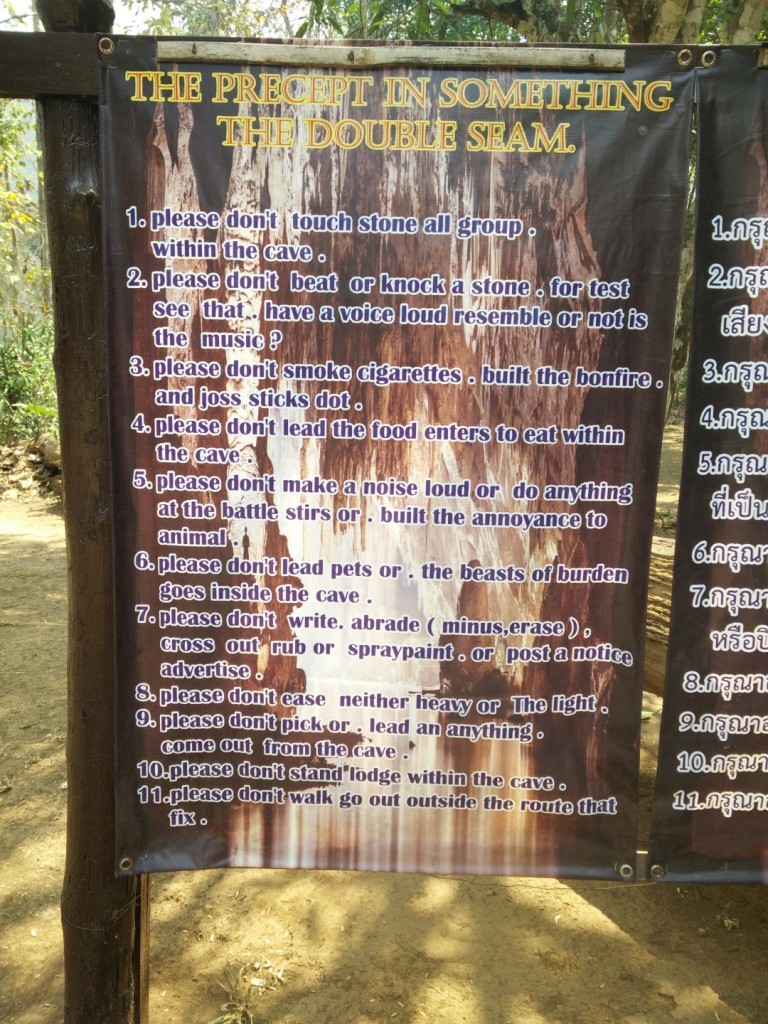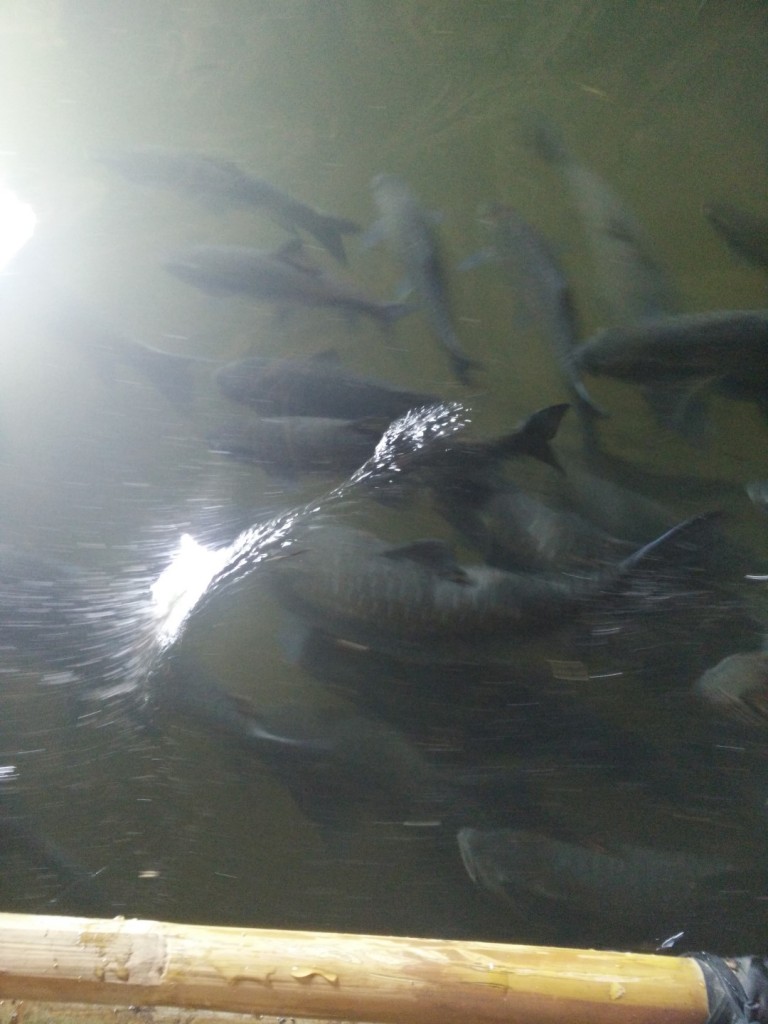 After the Lod Cave we took a bath at a natural hot spring – and I guess I don't have to say that that was soooo very, very good. Wish we had more time there 🙂 We also visited a waterfall, which should currently just be called a fall, because it's dry season and there's no water in sight. It was basically just a big rock.
Finally, the day was finished by going to the Pai canyon an watching the sunset. There were two guys, just sitting on the ground, playing a guitar and singing. That moment couldn't have been any more magical.
Back to Chiang Mai
After Pai, I was planning to go to Chiang Rai. That turned out to be an impossible task (unless I was willing to pay about 10 times the reasonable amount) and so I had to go back to Chiang Mai. It wasn't too bad though, because I got to stay with my group of Portuguese friends for a little longer. Also, I haven't really mentioned the way from Chiang Mai to Pai yet. There are A LOT of curves. I saw a t-shirt that said it's over 700 (I know, not the most credible source – but I sure as hell wasn't going to count them myself). Luckily, I never really get car sick, but some of the people in the minibus were not handling it too well.
Being back in Chiang Mai, I've decided to visit a care center for old and sick elephants for a day. I got to spend the day with a beautiful female elephant called Menoi (that's my best effort at spelling the name). She was amazing, very calm and peaceful. I fed her with bananas and cookies I made myself (I was told how to, I didn't just make it up :P). And yes, there are cookies for elephants. After that, we took a bath together and I helped wash her. Finally, we walked through the forest. Although the Asian elephants are smaller than the African ones, they are still majestic and very impressive.
I have to admit, Menoi is still a wild animal in captivity and there were moments, where I felt somewhat bad about this. But I do believe that there are not many things that could have been improved – the place's main goal was care for old and sick elephants, not tourism. It was very ethical, unlike a lot of other places… (Seriously, if you ever want to go do something like this, do some research about how the animals are treated – sadly, in most of these places it's truly atrocious.)
I finished my day by cooling off at a swimming pool. There I said my goodbyes to my Portuguese friends and the next morning caught an early bus to Chiang Rai.
Chiang Rai
Chiang Rai, at the first sight, seemed kind of… boring. I walked around the town when I arrived (that's what I like to do everywhere – get a little familiar with the surroundings, see how it feels there and see if there is anything that seems cool). Apart from a couple of temples (which are everywhere), I didn't really find anything there. Maybe I was just walking down the wrong streets 🙂
Yesterday, I've visited the White Temple, because it is supposedly very beautiful. Well, I can testify – it truly is. It's very modern and still unfinished. And the artist who built it is… a little crazy (I think you need that as an artist though). The murals in the temple contained characters such as spiderman, minions, angry birds, batman, ninja turtles… It took some effort to not burst into laughter there 🙂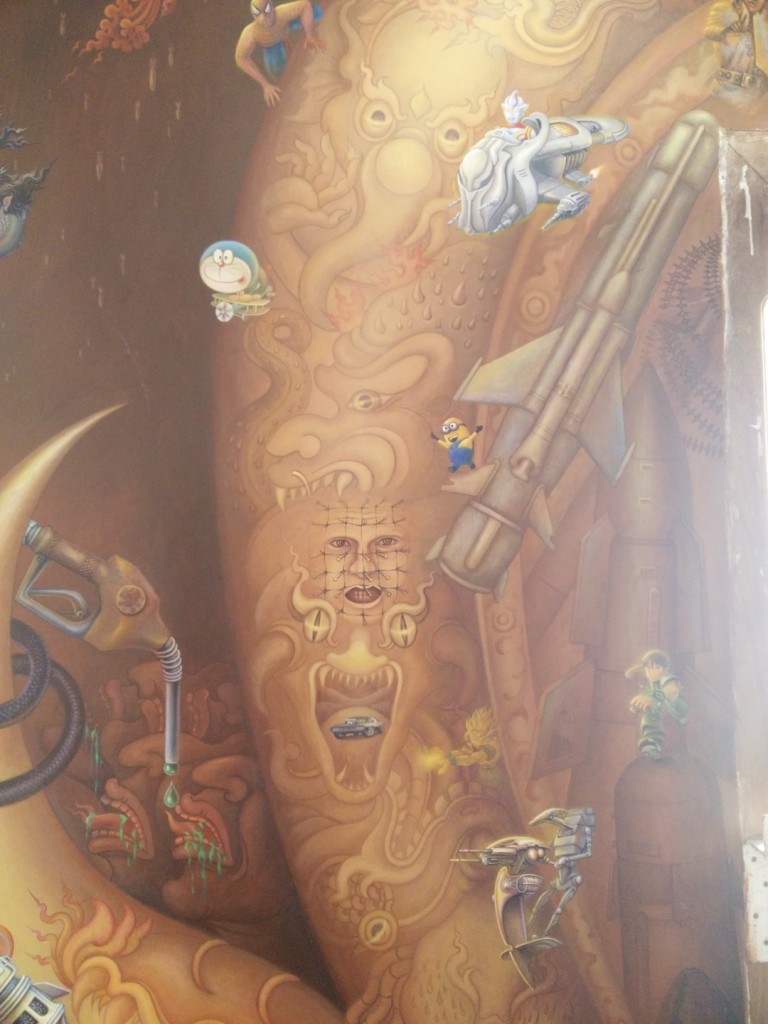 Afterwards, I had a very rocky journey to the Golden Triangle (the place where the border of Thailand, Myanmar and Laos meets) – which actually was not very special. Maybe because it was misty, so there was not much of a view.
One thing I have to mention about Chiang Rai is the food market at the night bazaar. It's fantastic! There are stalls with food, forming a square shape, in the middle of which there are plenty of tables to sit at – and that's unusual, mostly everything is super crowded here. There's also a podium, used by dancers and other performers. I had some amazing food there, I'm going to miss that.
I've only been in Chiang Rai for two nights again, but I'm already sitting at the airport. I'm flying to Yangon (through Bangkok) and I'll be staying in Myanmar for about 2 weeks, and then I'm heading back to Thailand – this time to the southern islands. I'm expecting Myanmar to be very, very different from Thailand. I'll let you know if that's true 🙂
Thanks for reading again, hope you enjoyed it 🙂
N.